Villa Vignamaggio Renaissance villa and classical italianate garden
Villa Vignamaggio makes its first documented appearance early in the 15 C as a wine-making property of the Gherardini family. The Gherardini were a noble Tuscan family, whose name derives from that of Gherardino di Ottaviano di Uguccione, documented in the 12 C and descended from the Adimari family which originated in Carolingian times (9 C). They constructed their castle at Montagliari near Panzano on a hill dominating the Greve river valley. From this position they often robbed merchants on their way to Florence. In 1302, the Florentine authorities finally decided to put an end to this activity and besieged the castle. After a long, hard battle, the Gherardini were defeated but instead of being killed or imprisoned they were simply forced to move to the other side of the valley to Vignamaggio where they built the first part of the Villa Vignamaggio.

"Mona" Lisa Gherardini, the daughter of Antonmaria Gherardini, was almost certainly not born at Vignamaggio in 1479 as is commonly claimed, since the property was sold to the Gherardi family in 1421 according to a contract issued by Biagio di Giovanni da Figline. Lisa was born in Florence, probably in a house on Via Maggio. She married the prominent Florentine silk merchant Francesco del Giocondo.
> > > Click the pictures for a larger view < < <

Villa Vignamaggio as it stands today is the result of rebuilding between the 15 C and the 16 C by the Gherardi family. The internal courtyard of the structure was constructed along very pure classical lines showing a clear influence of the architecture of Brunelleschi, while the windows, all architraved, create a rhythm on the facade broken only by the strong chiaroscuro effects produced by the contrast between the rose-coloured plaster and the pietra serena that frames and refines the window apertures.

The villa adjoins an italianate garden formed from an avenue of topiary boxwood and four small symmetrical grass and rose gardens delimited by hedges. The whole is set off by mature cypresses and numerous oil jars planted with shrubs.
The estate was bought in 1925 by Contessa Elena Samminiatelli whose family restored the Italian gardens and part of the villa. It changed hands again in 1988 when it was bought by Gianni Nunziante and is currently an azienda agricola producing wine and offering tourist accommodation. In 1992 Kenneth Branagh directed a filmed version of Shakespeare's "Much Ado about Nothing", using Vignamaggio as a set. Click this link for other films set in Tuscany.


Holiday accommodation in Tuscany
Planning a vacation in the Tuscany countryside? Stay in one of our economical and comfortable Tuscany holiday rentals with a view of Vignamaggio beyond the vineyards and woods.

Country B&B Room

Good price – tranquility – complete relaxation. A great vacation for two! B&B Bio "Il Cielo" offers a double room with large bathroom, independent entry and garden, deep in the Chianti countryside among vineyards, woods, streams and wild animals. More about B&B Bio "Il Cielo".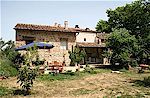 Holiday Apartments
Agriturismo Biologico "Dondoli" offers two newly renovated apartments for 2 to 5 persons in the quiet countryside on an organic farm - an ideal location for families with children. Each apartment has its own terrace for outdoor dining and there is a grill for use by the our guests. Breakfast provided upon request. Our motto is "tranquillity and hospitality"! More about Agriturismo Biologico Dondoli.